About Me
Video Courtesy of the
---
ANNALEISE REBEKAH CARR
2012 World Open Water Swimming Association Woman of the Year
2014 Dr. Brian Luke Spirit of Trillium Award Winner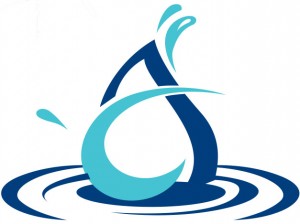 Marathon Swimmer ~ Award-Winning Author ~ Inspirational Speaker
My name is Annaleise Rebekah Carr, and I am a 16 year old marathon swimmer from Walsh, Ontario in Norfolk County. On August 19, 2012, I became the youngest person to swim across Lake Ontario, with the goal of raising money and awareness for .
I've been swimming competitively since I was 4 years old. I've competed at long and short course provincials, as well as open water provincials, and also at the provincial lifeguard games as a member of the Town of Tillsonburg Lifesaving Club and in triathlons. I'm not very tall (4'10"), but huge in heart!
Camp Trillium has been close to my heart since I visited their camp at Rainbow Lake in the summer of 2011, as part of the North Shore Swimmers, completing a 10 km open water swim and 10 km run through Norfolk County. We raised around $15,000 for Camp Trillium, and my visit there has been forever etched in my memory.
On Sunday, August 19, 2012, I finished crossing Lake Ontario, following the traditional Marilyn Bell route from Niagara-on-the-Lake to Marilyn Bell Park near the CNE in Toronto (considered one of the most difficult open water swims in the world). At the time, I became the youngest person to complete the swim, as well as the youngest person to join the "24 Hour Club," which includes all swimmers who do a marathon swim for 24 hours or longer. My crossing took an incredible 26 hours and 41 minutes through gruelling and wild conditions.
My world record swim has raised more awareness to Camp Trillium and childhood cancer. My original goal was to raise $30,000; I've now raised well over $200,000! I continue to raise funds for children's charities (including being an ambassador for Camp Trillium and headliner for the Variety Village Open Water Swim at Buttermilk Falls) as I do presentations about my swims and compete in other endurance sports. My goal is to continue raising more funds for this camp so that more kids and their families can attend while they battle with cancer.
Awards and Accolades
(WOWSA) Woman of the year in 2012.

Queen Elizabeth II Diamond Jubilee Medal, presented by Canadian Prime Minister Stephen Harper
Ontario Lieutenant Governor's Community Volunteer Pin
2012 Ontario Junior Citizen of the Year
2012 Canadian Sport Awards Spirit of Sport Story of the Year
2012 Inductee into the Norfolk County Sports Hall of Recognition
2012 TVO Kids "Super Citizen" Award
#10 on CTV Kitchener Top 10 Stories of 2012
In the 20 of 2012 on CHCH TV
Finalist for Global Marathon Swimming Awards 2012 Solo Swim of the Year (Female)
Simcoe & District Chamber of Commerce Community Service Award
Rotary International Paul Harris Fellowship
Lions International Melvin Jones Fellowship
2013 Independent Order of Foresters International Fraternal President's Award
2013 Honorary Commissioner of the Inaugural Maple Leaf sports & Entertainment Team Up Challenge
2014 Haldimand/Norfolk Soroptimist "Violet Richardson Award" winner
Named a member of Ripley's Aquarium Canada "Marine Teen" Youth Advisory Council
2014 Dr. Brian Luke Spirit of Trillium Award
Presented the Peace Tower Canadian Flag from September 1, 2014 by Minister Diane Findley MP on behalf of PM Stephen Harper
2014 Ontario Junior Citizen of the Year
My Story
Over eight months worth of planning, hundreds of hours of hard physical training, amassing a team of dedicated crewmates, approaching sponsors and collecting donations — and finally, swimming for twenty-seven hours across the cold, rough waters of Lake Ontario.
Why would a fourteen-year-old girl take on such a challenge?
For Annaleise Carr, the motivation came not from a desire for glory. Her ultimate quest was to raise money for her new friends at Camp Trillium, a charity that provides a camping experience for kids with cancer. What kept her going through the cold water, the exhaustion, and the terrifying night swim was the thought of those kids and their families that she was helping. In August of 2012, she became the youngest person to cross Lake Ontario, breaking the record set more than fifty years earlier by Marilyn Bell.
Readers will meet an extraordinary fourteen-year-old girl in this book. As she tells her story, it becomes clear how idealism and an intense desire to help others can lead a young teen to almost unimaginable achievements.
Annaleise is proud member of
Awards
[col span="6″]
[/col][col span="6″] [/col]
Lake Erie Crossing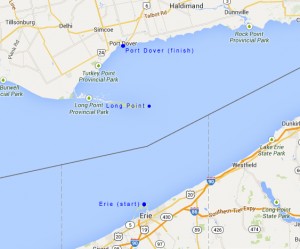 Date: July 25th, 2014
Start point: Erie, Pennsylvania
End point: Port Dover, Ontario
Distance: 75km
If successful, Annaleise will set the world record for the longest swim across Lake Erie, topping the old record by approximately 20 kilometres. The proposed path starts in Erie, Pennsylvania, travelling east of Long Point, and arriving at Port Dover beach in Ontario.
Annaleise is once again raising donation for Camp Trillium, for children with childhood cancer and their families.